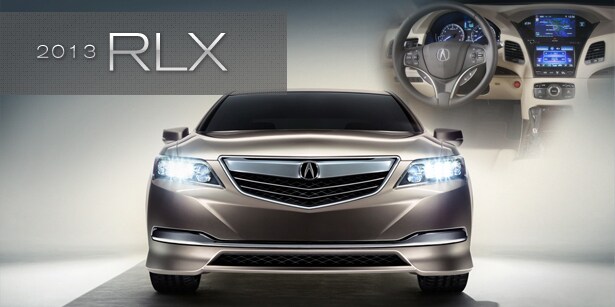 The Acura RLX Concept - Channel Your Instincts.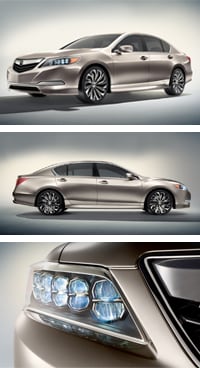 The new 2013 Acura RLX is now available for pre-order.

When Acura designers shaped the RLX Concept, they formed more than sheet metal. With their engineering counterparts, they've created a luxury sedan that bends technology to the will of the driver. The response to your demands is precise, immediate and gratifying. It's as if the car behaves not as a machine but as an extension of your instincts.
The RLX Concept is a driver's car that's just as rewarding for its passengers. The sleek exterior conceals a surprisingly spacious cabin, with each dimension affording you the room to relax. And while the longer wheelbase allowed the designer to optimize rear seat legroom, this was achieved without sacrificing trunk space.
It's understood that hybrid technology can help improve fuel economy. But in the RLX COncept, it does more. By using a dedicated electronic motor for each rear wheel, the new Sport Hybrid SH-AWD® system advances the precision of all-wheel drive during cornering, sending optimal torque to each wheel as needed. So now the idea of hybrid power is more powerful than ever.
How far has Acura advanced nighttime driving? The RLX Concepts LED headlights are a clear indication. Applying the latest in lighting technology, the RLX Concept places Acura at the forefront in using LED illumination to bring power and precision to the vehicle's headlights?and not merely for stylistic effect.
Channel your efforts, effortlessly. The next-generation AcuraLink® elevates connectivity to allow a seamless transition from home or office. A broad range of information and entertainment options are combined with services which can enhance safety, security and vehicle performance.

RLX Concept Features:

Sport Hybrid Super Handling All-Wheel Drive™ features a 3.5-liter V-6, DCT transmission, and three electric motors, including two driving the rear wheels

Acura Signature Jewel Eye™ LED headlights improve night time visibility withy greater brightness and a precisely tuned beam pattern, while operating more efficiently

Lane Keeping Assist System provides lane departure warnings and dynamically helps keep the vehicle centered in the lane

Ultra Premium 14-speaker Audio System

Seven-inch On Demand Screen™ for climate and audio controls

AcuraLink®:
-Built-in cellular communication
-Security alarm notification and stolen vehicle tracking
-Airbag deployment notification
-Pandora® and AHA™ internet radio
-Remote door lock/unlock
-SMS/email capability